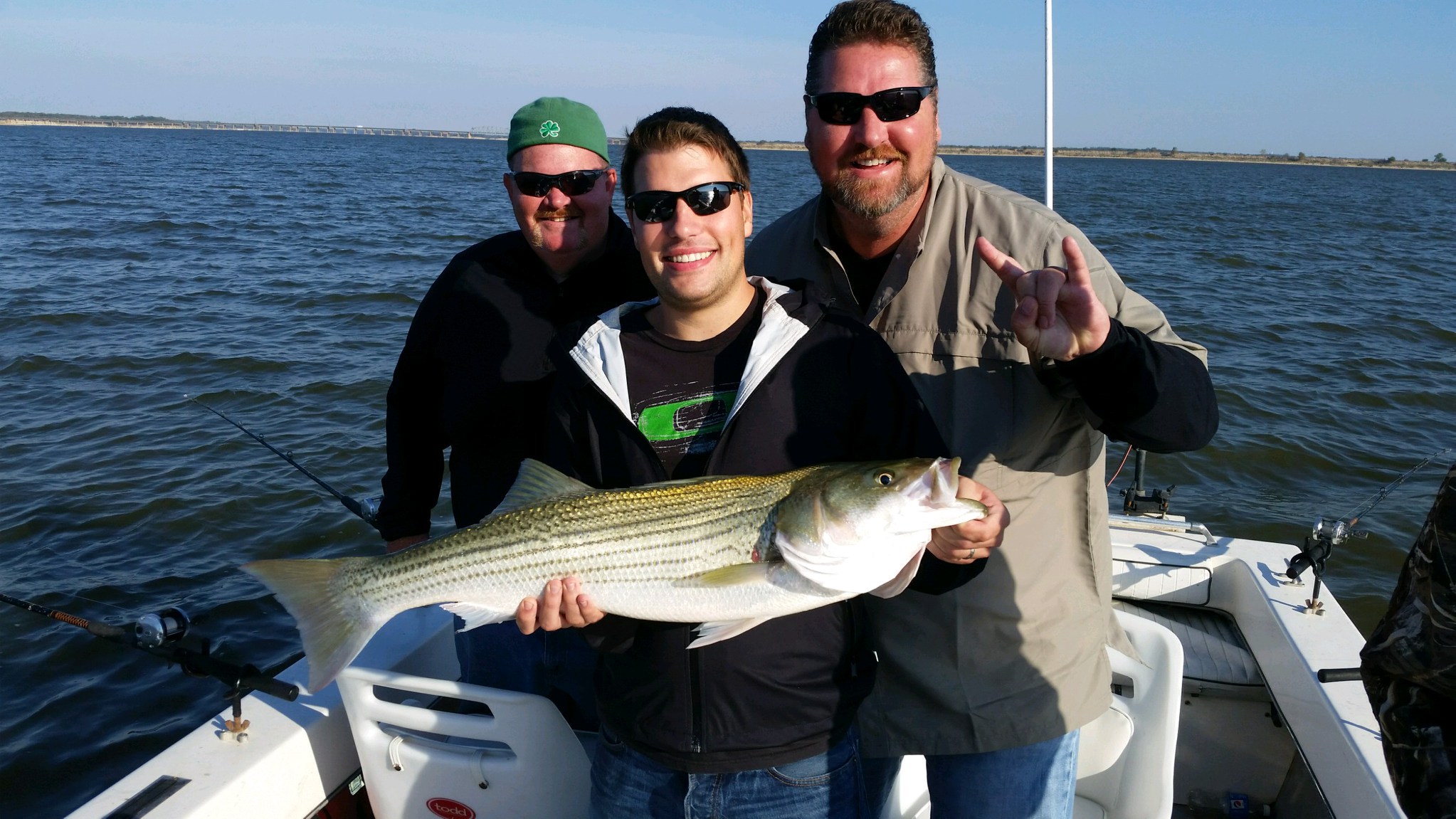 Lake Texoma Striper
Buckley Striper Guide Service
Captain Steve Buckley
Lake Texoma Striper Fishing
Lake Texoma Striper Fishing is GREAT!
Lake Texoma Striper Fishing
89,000 acres of Lake Texoma Striper Fishing and Fun!  It's the salty water from the Red River that makes Lake Texoma the best Striper fishery in the USA!  Yes it's the water!  Huge salt deposits near Wichita Falls TX give Lake Texoma water high salinity!  Stripers reproduce naturally in Texoma on top of the stocking it receives.  Come enjoy Lake Texoma Striper Fishing with Captain Steve Buckley today!
Lake Texoma Striper Fishing
Lake Texoma was stocked with Striped Bass or Striper in the late 1960's and its been a great fishery to date!  A huge population of Threadfin and Gizzard Shad provide a great food source for Lake Texoma Striper!  Stocked striper grow big and fast, plus the lake doubles down!  Striper run up the rivers and creeks that feed Texoma and spawn!  Lake Texoma is one of 6 places in the USA where land-locked Striper successfully spawn!  The spawn takes place each Spring and finishes up around May!  If you catch a big gal, please take a picture and put her back, she needs to make babies!  Buckley Striper Guide Service has been a full-timer on Lake Texoma since 2002!  Come catch a trophy Striper with Captain Steve Buckley today!
Lake Texoma Striper Guides
There are a lot of striper guides on Lake Texoma, some are good, and some not so much!  Captain Steve Buckley, owner of Buckley Striper Guide Service is a full-timer since 2002!  What is a full-timer?  A guide who simply fishes all year long.  We don't work elsewhere to support our family, we guide to earn a living!  We fish live bait and artificial lures depending on the season!  We will put you and your group on Striper and make sure the Texoma experience is a great one!  Come Striper Fish with us today!