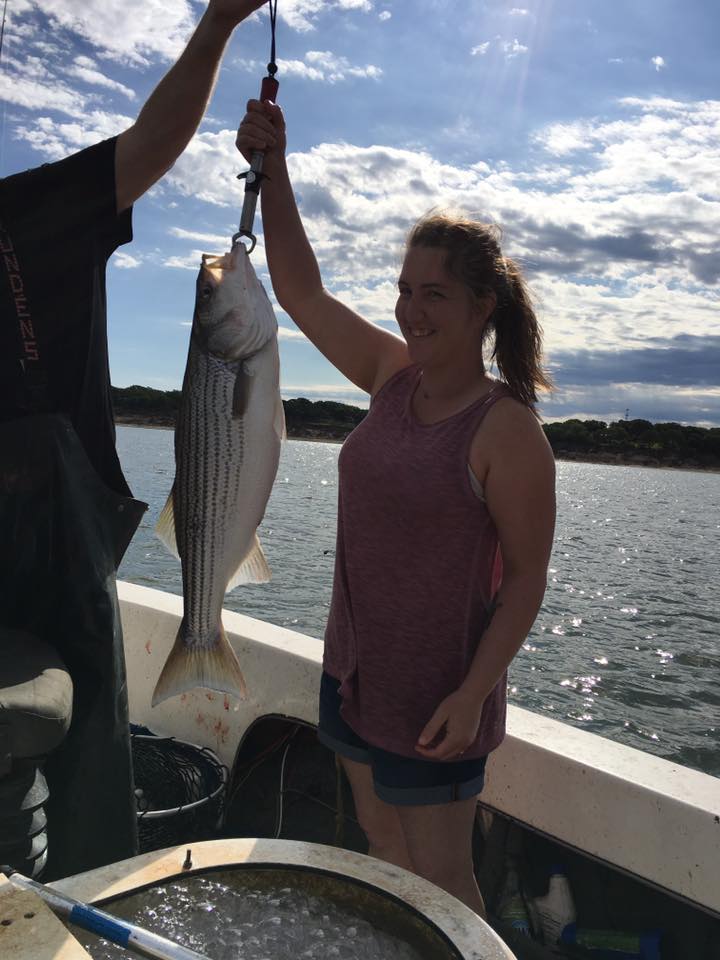 Lake Texoma Striper Fishing
Buckley Striper Guide Service
Captain Steve Buckley
Texoma Striper Report July 14, 2017
The Texoma Striper Report July 14, 2017 is GREAT!  Come join us before kids go back to school!
Lake Texoma Striped Bass Fishing Report
Fishing on Lake Texoma remains very good for Striper and White Bass on live bait and artificial lures!  We are on a strong summer pattern and have several groups of Striper dialed in!  The topwater action is very strong in the early morning and at sunset!  Large schools of white bass, smaller striper are running shad and eating topwater lures very well!  Catching larger Striper throwing slab spoons and swimabits below the schooling fish is common!  Big striper will wait under the schooling fish for a large injured shad to float down for breakfast!  Look in the summer spots close to the Dam in 40-50 feet of water!  Striper are staying in water 40-50 feet deep and eating live bait very well!  You will see smaller schooling striper and white push shad to the surface in that deep water, so keep the binoculars handy if you like topwater action!  
School will start soon, so book your last Staycation to Lake Texoma and a trip with Buckley Striper Guide Service!  We can take care of your trip from guide service to lodging!  We are a full time Lake Texoma Outfitter since 2002 and will put you on quality Striper and White Bass!  We are very busy so book your trip today!  Don't forget to Like us on FaceBook and Instagram!