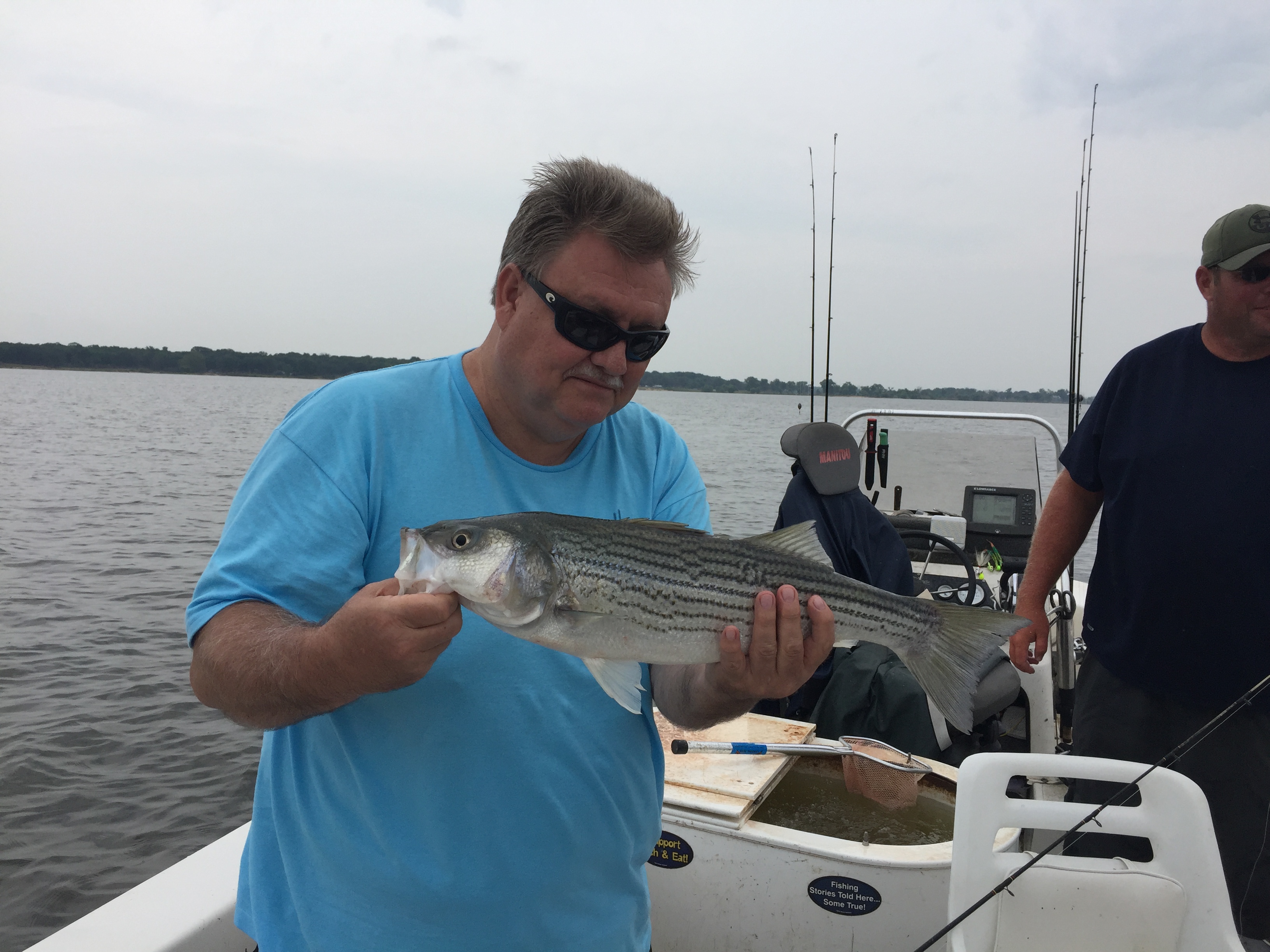 Striper Fishing Texoma
Striper Fishing Texoma is world famous!  Lake Texoma is the Striper Capital of the world!  Enjoy this Striper Fishery with Captain Steve Buckley, owner of Buckley Striper Guide Service!  Striper Fishing on Lake Texoma has never been better!  What are the best months for striper fishing Lake Texoma?  The answer is right NOW!  The Lake Texoma Striper Season is year round, come join us today! Fish with the Best Lake Texoma Striper Guide!
Striper Fish
Striper Fish come with several names, perhaps because of their wide natural distribution. They are called Atlantic striped bass, linesider, rockfish, pimpfish, or simply striper. The fish is native to the east coast of North America extending from St. Lawrence River in Quebec down to the Gulf Mexico, particularly in the area of Louisiana.
Striped Bass Anatomy
The body of the fish is silvery and streamlined. It is called a striper because of the seven or eight dark stripes that begin behind its gills and end at the base of its tail. Living up to 30 years, the striped bass can grow as long as 6.6 feet and weigh up to 125 lbs. The fish is anadromous, which means that it spends most of its adult life in saltwater but travels upriver during the spawning season to lay their eggs in freshwater environments.
Striper Fishing Texoma
Owing to their adaptability to freshwater habitat, striped bass have been introduced to a number of reservoir impoundment all over the country to control the population growth of gizzard shad as well as for recreational fishing. Among the freshwater bodies where striped bass has been successfully stocked is Lake Texoma.  Lake Texoma is the Striper Capital of the World because it doubles down!  Striper Fish reproduce naturally, and the Lake is stocked each year!  Come fish with the Best Lake Texoma Striper Guide today!
Striped Bass Lake Texoma
Lake Texoma straddles a section of the eastern border between Texas and Oklahoma, hence the name. It was formed with the construction of Denison Dam along Red River in Grayson County, Texas and Bryan County, Oklahoma in 1938. It has a surface area of 89,000 acres, making it a huge habitat for aquatic life.
Striped Bass was introduced into the lake in the mid-1960s, and in about a decade, they began to spawn. In fact, Lake Texoma is one of only seven inland lakes where the fish reproduce naturally. In all other places, they have to be farmed in hatcheries and released into the water bodies.
This makes Lake Texoma an excellent location for striped bass fishing. Feeding on schools of shad, the striped bass commonly reach a weight ranging from 12 to 20 pounds and length of 28 to 35 inches. The record for the lake is 35.12 pounds.  Stay updated with our Lake Texoma Striper Fishing Report!  We update our Lake Texoma Fishing Report twice a month!
Striper Fishing Lake Texoma
The Oklahoma Department of Wildlife Conservation (ODWC) introduced 1,013,133 striped bass into the lake over a period of nine years from 1965 to 1974. In order to allow the fish to grow, a one fish per day bag limit was imposed in 1967. Although it was verified that fish had begun to spawn naturally in 1973, ODWC waited until 1977 to increase the limit to three. Today, the limit is 10 fish per person, but only two of these can be 20 inches or more.
Before you can throw your line, you need to secure a fishing license. The best license to get is the Lake Texoma License which can be purchased in any Wal-Mart or local stores close to the lake. This will allow you to fish in both the Texas and Oklahoma sections of the lake. Generally, any person above 15 years of age and below 64 needs to secure a license.
While 90% of the diet of striped bass consists of fish, they are also known to bite bloodworms, chicken liver, nightcrawlers, and sandworms, thus making them effective baits. Anchovies, clams, eels, herring, menhaden, and shad, are also commonly used by stripers.
Most stripers know that, among others, timing is important to successful fishing. Hence, it is important to be aware of the behavior of the fish. In Lake Texoma, striped bass normally run up to the Red and Washita Rivers in February for spawning. Plenty of them can be found around the river channel near the Roosevelt and Willis Bridges. After spawning, they move over to the main part of the lake.
Striped bass can be caught using surface lures, although trolling with deep baits can also be effective. During summer, fall, and even winter, the fish often surface to feed on threadfin shad.
Suitable equipment is also necessary, but if you do not own a good set, our Lake Texoma Striper Fishing Guide Service will provide what you need.
Striper Fishing Texoma
Book your Texoma Striper Fishing Trip with Captain Steve Buckley today!