Plan a Guided Striper Fishing Trip today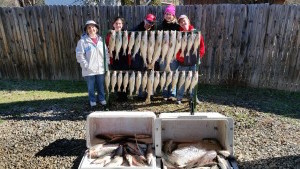 I encourage you to contact me if you have any questions or would like more information. Not only will I put you on fish, but I will make the trip as educational as possible, so you have a better understanding of how Striped bass behave. Trips are a half day long, and I provide all the Rods, reels, and lures. Be sure to have your Texoma fishing license. Make sure you bring some drink and snacks. I look forward to showing you a great time, and showing your what this lake has to offer! Call us today with any questions or if you would like to schedule your guided trip.
You can reach me at:
Steve Buckley
Phone: (972) 345-8516
If you need a response right away!
Or send me an e-mail at:
SteveCBuckley@earthlink.net
If you had a great time with us, please feel free to share your experience on our Google Plus page. Your reviews are greatly appreciated.
https://plus.google.com/u/0/109207652293849510723/about
Thank you for visiting my web site! I look forward to showing you a good time! The best way to thank me is a referral!