My name is Steve Buckley. I would like to offer you a memorable time fishing for Stripers on Lake Texoma. We can serve any size group large or small. Bordering the Texas and Oklahoma line, Lake Texoma is an incredible lake for catching Striped bass.
Every time you go out fishing you can have a different experience. Even if you keep going to the same spot on the same lake every day, something different will happen each and every time you go out on the lake. Striper in Lake Texoma can bring anything from a relaxing day sitting on the water to an exciting battle with nature as you experience one of the most enjoyable challenges in fishing.
Lake Texoma has one of the most liberal fishing limits in the country, and it is conveniently located between Dallas and Oklahoma City.
Lake Texoma is a beautiful area that makes for the perfect place for your next fishing adventure. As one of the largest lakes in the United States, it provides you with plenty of nooks and crannies where you can enjoy your fishing trip free from the distractions of every day life.
My services can accommodate groups of any size, whether you are looking for a peaceful afternoon on the lake or want to take a group of friends out to experience the joys of striper fishing. No matter how much experience you have with striper fishing, I will do everything possible to make sure that you have a memorable time on Lake Texoma.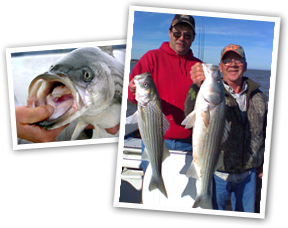 Who Am I?
My name is Steve Buckley, and I'm an admitted fishing junkie. I go out fishing on Lake Texoma nearly every chance I get and I know the lake and its surrounding area better than I know the back of my hand.
I get so much joy out of striper fishing on this lake, and it is my pleasure to be able to introduce others to that same joy. I've been fortunate enough to make this my full time job, and I can help to show you what it is that makes striper fishing on Lake Texoma such a special experience.